Tethered rides are one of the latest developments in hot air ballooning. A cool new way to enjoy the unforgettable experience of a hot air balloon flight, with much less hassle. Being a relatively recent development, offered by select ballooning businesses, you may be curious to know exactly what a tethered service entails.
What is a tethered hot air balloon ride? It's a hot air balloon that is tied to the ground with anchors around perimeter. This keeps the balloon in place, preventing significant drift or travel, allowing passengers to experience flight at a special event without needing a spare hour to fly.
The concept may seem rather simple on the surface, but in reality tethered services take a lot of work and planning. Just like any other balloon activities or aviation service, ranging from a short five minute flight to fifty feet, or a half hour trip to heights of up to one hundred feet.
Tethered Balloon Rides
Organising a tethered service for a memorable event needs organising, including professional and qualified staff. Crew should be certified according to your national aviation authority. This would be the FAA (Federal Aviation Authority, in the United States of America), CAA (Civil Aviation Authority, in the United Kingdom), or the EASA (European Union Aviation Safety Agency, in the European Union).
Both a tether operator and a set-up tether operator are necessary personnel onsite at all times. The former to keep check on the tethers, and making sure they keep the balloon in the place, while the other must take charge of setting up the ride. The set-up operator also assists in launch and landing with the pilot.
A set-up operator must also handle the tether site requirements. These can include volunteer vehicles or other weights, which can provide enough mass to keep the balloon ride tethered. Minimum spacing requirements are also a key consideration, with the majority of tether balloon services needing a minimum of 150 ft radius of unobstructed tether space to operate.
Although a balloon can tether at client location, meaning the business will transport to you and your event for setup, it is also necessary that ideal conditions are met for operation. Stable weather conditions at a typical event just need a clear day, but a day that is too warm can affect the ballooning experience.
Unstable conditions such as thunderstorms and rain can drastically affect how the balloon functions, and it wouldn't be a lot of fun to sit in a wicker basket as you got soaked. High wind conditions can also threaten the tethered anchors, leading to postponement or cancellation. Make sure to consult the refund policy for these circumstances prior to booking.
History
In 1783, France hosted the first recorded tethered balloon ride. Although we have come a long way with a modern 75′-85' tall balloon capable of reaching enormous heights, we've also come further in terms of interest in aviation. Early balloon aviation was considered a novelty, rather than the popular hobby and sport it would later become. 
Modern tethered services are far more popular than the original paper, canvas, and rubber used in the first attempt. Contemporary nylon balloons are also far safer, and developments from cold air balloons to being able to carry passengers in winds stronger than the past have launched ballooning forward.
Differences From Other Balloon Experiences
While all hot air balloon experiences can be magical and unforgettable moments, a balloon tether is totally unlike conventional and commercial balloon flights. The lack of travel can reduce the viewing experience, but if you're just looking for a quick thrill then tether services may be for you.
If you're looking to provide a lasting memory to people at events, then a hot air balloon tether can do just that. Short flight times and a stationary position allows multiple groups of people to get a chance to fly in the balloon, rather than an hour or more dedicated to a single group you may find in other commercial services.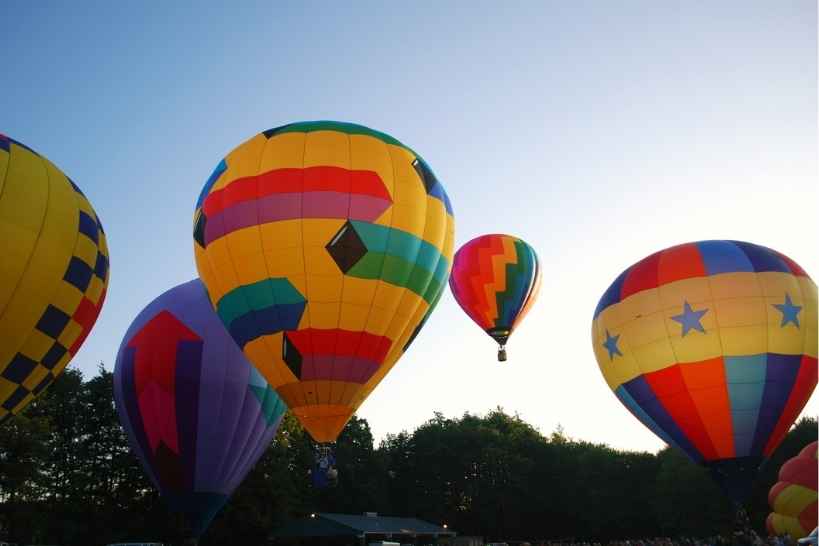 Pros
Stationary balloons make for great advertising opportunities, more so than hot air balloons in motion. In an ideal set-up at a traffic intersection, a balloon can reach hundreds if not thousands of drivers depending on the time of day. It's just as effective as other ballon advertisements, such as blimps or rooftop balloons. 
Unorthodox advertising such as this creates a memorable brand impression, and would fit right in amongst a hot air balloon festival or similar events. So why not try and put that special promotion on a balloon at you next local community festival?
Night time illumination is another benefit of tethered services over a balloon with a commercial pilot. Glowing balloons are perfect for a night time visual, both on ground and in the air. If you're looking for a perfect photo opportunity at the next college event, you should consider hiring a tethered balloon service. 
Set up speed is also generally low as well, as well as take down. For a tether service, a short deflation of balloon can be followed by 30-45 minutes for the rest of the packing. 30-45 minutes from deflation is not a large amount of additional time, and not something you are likely to be billed for. 
Cons
When hiring a tethered balloon ride, you will likely have to cover travel expenses. Before a balloon team travel to bring the service to your event, you can already start to be set back by surprise travel expenses you may not expect. Keep these travel expenses in mind before the costs get out of hand.
A security deposit is also a common upfront cost, on top of existing travel expenses. These often come with an hour minimum, a set amount of time in which the service is can't be refunded. Weather conditions may or may not affect this, so verify with your provider before purchase. For example, Rohr Balloons have a 10% non-refundable deposit that can't be avoided.
You're also likely to pay by the hour per balloon, so hiring multiple hot air balloons can be expensive for additional time. Far more expensive than a simple trip for yourself. Some businesses may charge in certain minute increments for additional time, but these minute increments also vary.
Some minute increments can be as low as 20 minutes, but other minute increments can reach 40. 
Is it Safer?
While most hot air balloons are safe experiences, it's hard to get much safer than a tethered balloon experience. Aside from gusty wind conditions and other weather events that could affect any hot air ballooning, a tethered flight significantly cuts out the few safety concerns passengers may have with hot air balloons. 
Since they're tied down, the balloon landing is much smoother. This will help the pilot in command guide it down to a stop, rather than risking a bumpy landing and whiplash for those in the hot air balloon basket. Tether systems maintaining a stationary position also prevent the risk of collision, whether that be tall buildings or power lines. 
Calm winds, temperate weather, and an optimum tether can create a passenger flight that won't soon be forgotten. With most businesses providing vehicles for tie-downs, successful tethers have never been easier than they are now.
Conditions re often best in the early hours of sunrise, or at sunset in the evening. This is because the winds at these times are generally calmer.
Can I Hire a Tethered Ride?
There are a number of businesses to choose from when it comes to a tethered service, including Rohr Balloons. Many companies cater to corporate clients, private parties, and tethered advertising. Whatever your need, there is likely an air balloon company ready for hire.
Stationary ballooning is a hot air balloon experience totally unlike any other, and is seeing further use and development. For example, sometimes a tethered balloon displays at celebrity events as a method of obstructing unwanted paparazzi,  or even just providing a backdrop to events. 
One consideration to take into account before you rent a tethered balloon and purchase additional time, would be the company you are buying from. Different services can handle different volumes of passengers per hour.
The passengers per hour average of companies can vary depending on how long the ride last, from anywhere between 10 to 80 passengers per tether ride. So if you want to see how your balloon boards passengers prior to investing into a tether service, make sure to inquire. 
I'm Annie, a twenty-something year old girl who loves hot air balloons. So much so, that I have a full time job as a Flight Instructor and it is all I love talking about. Something about being up there in the elevated altitudes helps all my stresses float away!