Cappadocia & Hot Air Balloons – Our Ultimate Guide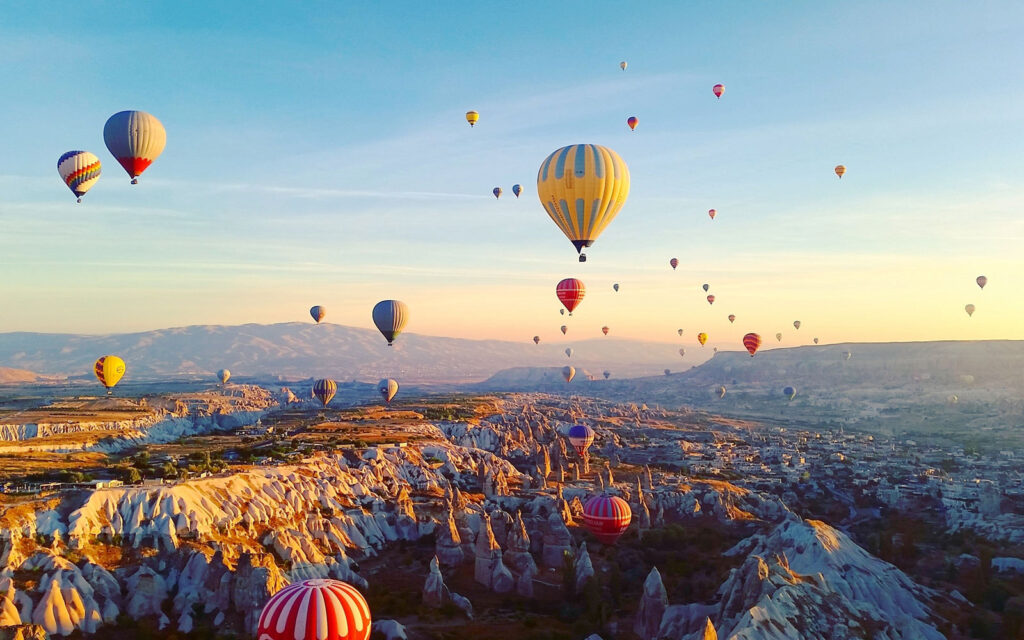 Cappadocia is part of Turkey which is most known for its hot air balloons, during recent years this holiday destination has become even more popular due to its perfect wind conditions for flying all year round.
Hot air balloons are now the main attraction for Cappadocia since you can see the whole area in just a few hours, from underground caves to rock formations and hidden cities and fairytale-like chimneys.
We've put together an ultimate guide below which will discuss why you should go hot air ballooning in Cappadocia, all the essentials to know before a hot air balloon ride in Cappadocia, what to expect on your hot air balloon and whether or not it's worth it.
Why You Should Go On a Hot Air Balloon In Cappadocia
You might have seen pictures of the sunrise over Cappadocia, the fairy-tale-like chimneys, stunning landscape and sky with hundreds of hot air balloons taking in the views.
If you are on the edge about whether or not to buy a hot air balloon tour in Cappadocia then we've listed out some of the reasons to book ASAP below.
You get to go low – Cappadocia does not have any wildlife, which means you can go low with your hot air balloon and get close up to amazing structures and buildings that you wouldn't have seen otherwise.
You can also fly high – You can fly very high on your hot air balloons, up to even 1000m giving you sky-high views of the whole city.
You have a unique experience – Although there are many hot air balloons in the sky, everyone has a unique experience, your pilot can take you through different locations, fly you high or low and spin you 360-degrees.
Experience the sunrise – Most of the hot air balloon rides in Cappadocia start in the early hours of the morning where the scenery and landscape are covered with golden hues, although the 4.30 am starting can be hard, it's worth it.
The Essentials For Choosing a Hot Air Balloon In Cappadocia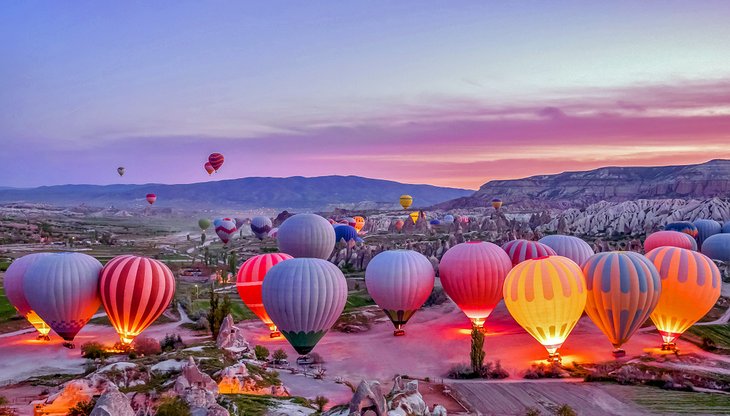 Since there are so many hot air balloon companies in Cappadocia, choosing a company can be a task and overwhelming if you have no prior knowledge of hot air ballooning.
We've listed some essentials for picking your right tour below.
The price – On average, it can cost between $140 and $250 for a hot air balloon ride in Cappadocia but this price can vary according to how many people you are in the group and any extras such as food and wine.
The time – It's best to book in the low season when flying because of cheaper prices, plus a winter hot air balloon ride can be fun too. You will be best off choosing a sunrise tour (which is when most happen anyway), your balloon will likely leave between 5 and 7 am since this is when winds are the weakest.
Passengers – Children under 110cm will not be able to see over the baskets of hot air balloons and might have trouble standing for long periods. Wheelchairs can unfortunately not fly.
Safety – Choose an experienced pilot for your hot air balloon ride, most should have over 200 hours before being able to fly, Turkish authorities make sure hot air ballooning is very safe and you will not be allowed to fly in strong winds.
What To Expect When Flying With a Hot Air Balloon In Cappadocia
To prepare you for your hot air balloon experience in Cappadocia we have put together a little guide below which will take you through the experience so you can see why this tour is as popular as it is.
Preparation
To begin you will drive to your starting point then they will start to pump up the balloons while inspecting the basket and ropes, the envelope is then filled with cold air while the propane gas heater starts to heat it.
Take-Off
You now climb into the basket which is divided into parts, the middle for the heater, apart for the pilot and rest for the passengers, some baskets can carry up to 20 people, you will be able to move around once in the balloon but you will be seated for the first part with a seatbelt.
Flight
Now to enjoy the flight and gaze over Cappadocia, you will likely be flying for around an hour in total, time to take pictures and videos too.
Landing
When you start the descent your pilot will likely try to land in a trailer or soft spot, which is successful most of the time, sometimes the basket can jump slightly when landing. Once down you will be helped out the basket and offered a glass of champagne as well as a certificate.
Tips For Hot Air Ballooning In Cappadocia
No matter what, you will have a good experience when hot air ballooning in Cappadocia, but there are some tips and tricks to keep in mind if you want to have an even better time.
Go during April-November – During April to June and September to November are the two best seasons to go hot air ballooning in, for these high seasons book well in advance.
Check for scams – There are a lot of scams for hot air balloons if you do not care who you book with, always double-check the company reviews and certification to avoid running into any.
Choose a reputable company – There are some main popular companies to tour within Cappadocia such as; Voyager balloons, Royal balloons, Atlas balloons and Butterfly balloons.
Take photos – Do not forget your camera to take photos with, the view will be stunning and you don't want to forget it.
Book in advance and leave a few days – To avoid disappointment make sure you book in advance but leave a few days after in case your tour gets moved due to bad weather.
Is Doing a Hot Air Balloon Trip In Cappadocia Worth It?
Overall, to conclude, our guide, although doing a hot air balloon tour in Cappadocia is very touristy, it is worth it for the views and a uniquely romantic experience. We always suggest choosing a reputable company and booking in advance with a few days extra for space if it gets moved to a different day due to bad weather.
I'm Annie, a twenty-something year old girl who loves hot air balloons. So much so, that I have a full time job as a Flight Instructor and it is all I love talking about. Something about being up there in the elevated altitudes helps all my stresses float away!