We'll cut to the chase: Flying over Cappadocia is most definitely worth it.
Cappadocia is a stunning and amazing terrain created over thousands of years by erosion.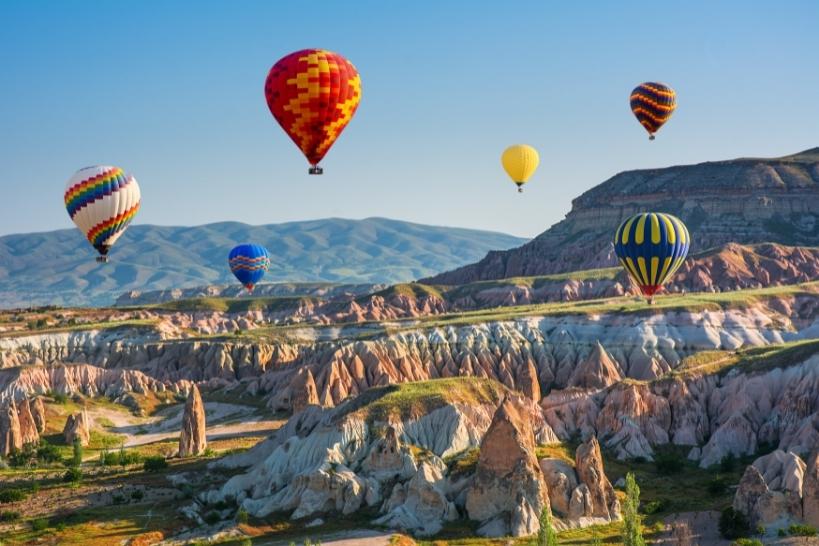 What remains today are stunning troglodyte communities, underground civilizations that previously housed human dwellings, and beautiful valleys that stretch for miles. 
Is Cappadocia Hot-Air Ballooning Worthwhile?
Cappadocia is impressive from the ground, but seeing it from above is an unforgettable experience for a higher admission fee.
Is it worth it, even if it is a purse-emptying one?
One advantage, particularly for those who are pressed for time, is that the one-hour flight can be completed before breakfast. 
Set the alarm and prepare to be wowed if being entertained at dawn appeals to you.
Hot air balloons rise, dip, and dodge one other, as well as the fairy chimneys in their path, as they float magnificently across the Anatolian sky.
Demand is as High as the Sky
Many visitors believe that ballooning is required in order to fully enjoy Cappadocia's distinctive environment. As a result, demand for balloon flight space is increasing.
If you plan ahead, you'll have plenty of options for companies, dates, and flight times, subject to weather conditions.
If you wait until you are in Cappadocia, you may have to make do with what is available or you could simply miss out.
Book early to avoid disappointment.
Getting to Cappadocia?
Due to Cappadocia's remote location in Turkey, getting there by bus or plane might be exhausting.
Furthermore, because of the low population density, public transit is restricted, which does not help.
Nothing, however, is impossible!
Cappadocia is a fascinating location to visit, so renting a car or taking a tour is a good idea.
If you want to get to Cappadocia by bus, keep in mind that most bus companies have links to Nevsehir and Göreme.
Traveling from Istanbul or Izmir takes the longest (12 hours), whereas traveling from Ankara takes 5 hours. 
If you're visiting Istanbul and want to fly to Cappadocia from there, consider purchasing an all-inclusive package that includes bus or plane transportation, an overnight stay in Cappadocia, and a hot air balloon trip.
It could be less expensive than booking your hot air balloon ride through looking for a hot air balloon company online and searching for your own budget accommodations.
Traveling to Cappadocia by plane is the quickest and most expensive option.
You can fly into Kaysei Erkilet Airport (ASR), which is about a one-hour drive from the center of Cappadocia (you can easily arrange a shuttle bus from Kayseri Airport to Cappadocia).
The other airport is Nevsehir Kapadokya Airport (NAV), which is near Nevsehir Province's Gülsehir town.
Turkish Airlines offers a twice-daily direct route from Istanbul to Nevsehir. 
The Cost?
Trust me when I say that a hot air balloon ride above Cappadocia is well worth the money.
Everyone who visits Cappadocia raves about their hot air balloon ride, especially when you are rewarded with such spectacular views of colorful balloons.
The cost of a Cappadocia hot air balloon ride varies depending on what you want included in the fee. The cost of hot air balloon standard flights ride range from $140 to $250 (€125 to €220) per person.
The cost is determined by the length of the flight, the time of day, and whether or not it is high season.
The minimum is a basic 1-hour balloon ride flight, but it can be up to three hours. When traveling in a group, the cost of a private flight is frequently reduced.
The number of tourists visiting Cappadocia decreased dramatically as a result of COVID-19. As a result, numerous hot air balloon tour companies constantly cut their prices. Deals were slashed to as little as €60 (US$ 70) for an air balloon ride experience.
Normally the costs vary substantially.
Every hot air balloon provider know you're at their mercy, especially during peak season and/or when there are numerous days of canceled flights.
The number of people in the balloon (smaller group sizes are more expensive), the length of the ride (one hour is usual, although there are longer choices), and the high season/low season are all factors in pricing.
For a one-hour ride with a large party, you should anticipate to pay between $120 and $250 USD per person as a general estimate.
When booking a hot air balloon ride in Cappadocia, keep in mind that practically all prices are listed in Euro. 
Extra Services
If extra services are provided, the price may be greater.
For example, some hot air balloon excursions in the Cappadocia region include various sightseeing tours, or you can sample traditional Turkish cuisine prepared by locals, walk through vineyards and pistachio trees, hike, and perform many other traditional activities.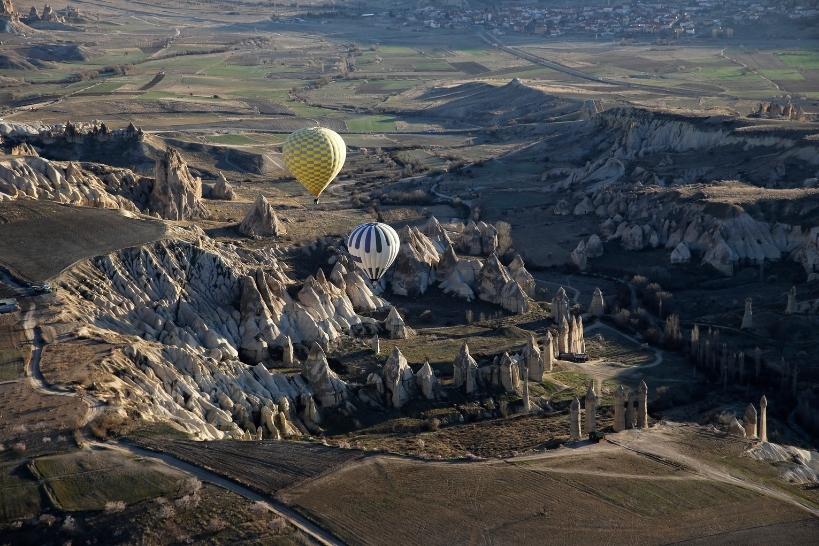 So, is it Worth It?
Cappadocia is well worth seeing, whether to see the hot air balloons from the ground or to ride in one. Watching the balloons from the ground or riding in one are two ways to enjoy the Cappadocia hot air balloon experience.
If the prospect of traveling in a hot air balloon makes you nauseous, simply observing the balloons from the ground will provide you with an unforgettable experience. 
You'll be high enough to see the hot air balloons float just feet away thanks to a vantage point in Göreme. 
You can either drive to the parking lot near the viewing spot or trek up from Göreme town to reach the viewpoint point.
Because traffic is at a stop at the lookout point, walking is the best option. Prepare to pay a small cash fee (about 3 Lira) to get access to the road leading to the vantage point.
If you want to ride in a hot air balloon, I'll provide you with far more information than you ever imagined. But for now, know that your hot air balloon flight must be scheduled for your first morning in Cappadocia.
The Experience
Now that you know the ins and outs of scheduling your hot air balloon excursion. Let's discuss the experience.
At a predetermined  time, your hot air balloon company will pick you up from your hotel.
You'll then weave your way through Göreme's streets, gathering up your fellow hot air balloon passengers.
At this hour, the streets of Göreme will be clogged with white vans doing the same thing. It's a sight to behold. 
You'll be taken to a countryside location just outside of Göreme where you'll be able to witness your hot air balloon being filled while enjoying complimentary pastries, coffee, and tea from the breakfast table put up by your agency.
Whatever agency you choose, the procedure is the same.
Watching my balloon fill and the neighboring balloons come to life with fire was just as thrilling for me as the ride itself. 
Finally, the moment will arrive when the hot air balloon crew will signal your group to board the balloon.
The hot air balloon basket is divided into pieces, with slots for your feet to go through so you may get into it.
You won't be stuck in the center of the basket with no way to see over the edge.
However,  you may prefer having a corner location because it will provide you with a wider range of uninterrupted views.
Regardless of where you find yourself, don't be too concerned about which portion you wind up climbing into.
The hot air balloon pilots do an incredible job of slowly turning the basket so that everyone can see everything in the Cappadocian landscape.
Air Balloon Sunrise Flight
The majority of hot air balloon rides are one hour long. They'll have you flying your balloon trip just before daybreak. It will be completely dark outside by the time you arrive.
Alternatively, a lengthier hot air balloon journey can be arranged. In fact, a few balloons will likely still be in the air when you're dropped off at your hotel for the normal one-hour excursion.
Nonetheless, approximately two hours after daybreak, all balloon operators all stop flying by. 
Cappadocia Hot Air Balloon Festival
One of Turkey's most popular and spectacular events is the Cappadocia Hot Air Balloon Festival.
Because the weather in Cappadocia is so hot and dry, the region hosts a hot air balloon festival every year. 
The largest air show in Europe will feature over 100 hot air balloons and 20 special shape hot air balloons.
Three days of ballooning, activities, night time balloon glows, musical entertainment, cuisine, and more for the entire family, couples, friends, and individuals who wish to experience the wonder of Cappadocia. 
Every year in the first week of July 2022, the Cappadocia international hot air balloon festival, one of Turkey's most prominent tourism destinations, takes place.
It operates around 150 different hot air balloons from various countries and takes 5 days in total.
Every day brings a new set of activities. Hot air balloons of various forms and sizes from many countries are also observed in the skies with fascination.
The number of people attending the hot air balloon festival is expected to increase each year and those who come to see the hot air balloon festival have a wonderful experience. 
They are looking up at the multicolored balloons in the sky. Hot air balloons of various varieties also draw a lot of attention.
You can photograph or film these stunning creatures. 
Other than balloon flights at the hot air balloon festival, it is held at several occasions. Local folk dances, international folk dances, and a night glow show are among the events.
Concerts by well-known Turkish singers are conducted in the evenings. 
Cappadocia is known for its unusual "fairy chimney" volcanic cones, valleys, underground cities, rock-cut boutique hotels and dwellings, and early Christian churches and shelters.
Visitors are encouraged to come here to see the hot air balloon festival. Domestic guided tours, which you can obtain through your travel agency, will allow you to visit historical sites that are not available anywhere else in the world.
Guests can also observe historical sites from the air in hot air colorful balloons through a hot air balloon provider. The UNESCO World Heritage Site of Cappadocia is under preservation.
Staying in rock-carved cave hotels and antique mansion mansions in the Cappadocia region  provides a variety of experiences. 
Top Cappadocia Balloon Flights
Balloon Flight Over the Fairy Chimneys
https://www.viator.com/tours/Goreme/1-hour-Hot-Air-Balloon-Flight-Over-the-Fairy-Chimneys-in-Cappadocia/d23271-9398P12
One Hour Deluxe Hot Air Balloon Tour(Goreme Valley)
https://www.viator.com/tours/Goreme/One-Hour-Deluxe-Balloon-Flight/d23271-100856P9
Cappadocia Balloon Ride and Champagne Breakfast
https://www.viator.com/tours/Goreme/Cappadocia-Balloon-Ride-and-Champagne-Breakfast/d23271-5645CAPPADOCIA
Is it true that you may fly throughout the year?
Why are there so many different pricing for what appears to be the same tour?
Is the experience consistent?
Nobody tells about you these fascinating facts about hot air ballooning in Cappadocia, Turkey but here they are to leave you with.
The Turkish government takes security very seriously.
The education of pilots is comparable to that of aviation pilots. Cappadocia alone has three educational institutions. The entire education takes around 15 months from start to finish, including acquiring a job flying tourists, to become an experienced pilot.
The hot air balloon pilot will have flown Turkiye balloons well over 200 hours by the time he obtains the essential certificates.
The meteorological conditions, particularly the wind, must also be ideal for the balloons to soar.
If the weather conditions are within restrictions, the Turkish Civil Aviation Authority operates an office in Cappadocia that approves balloon flights.
No exceptions are made to avoid hot air balloon crashes.
A maximum of 150 hot air balloons can be in the air over Cappadocia at any given moment, according to the authorities.
There are usually less than that over the dreamlike landscape.
Only 20 or 30 balloons are lucky enough to launch before the winds change on certain days.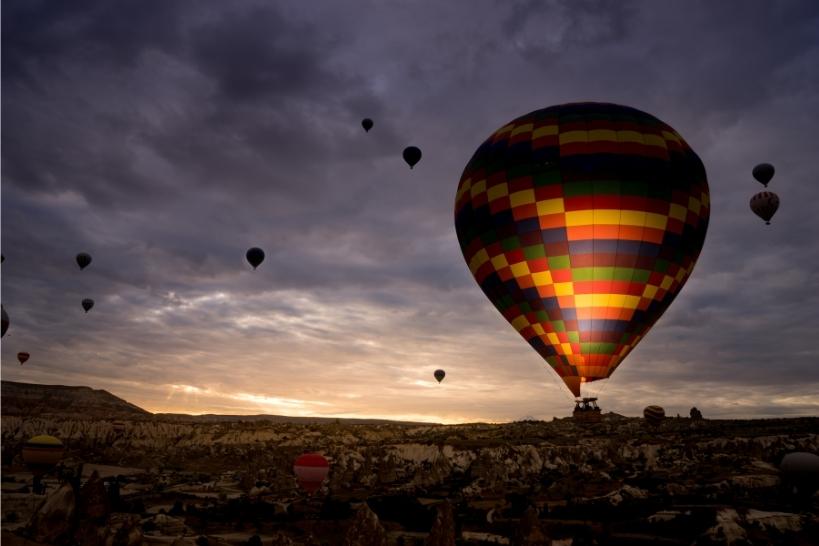 The balloon's path is largely determined by the wind's direction. The only thing the pilot can really control is the flight height, you'll hear.
However, after witnessing the Turkish captains' virtuosity, you will strongly disagree. 
I'm Annie, a twenty-something year old girl who loves hot air balloons. So much so, that I have a full time job as a Flight Instructor and it is all I love talking about. Something about being up there in the elevated altitudes helps all my stresses float away!